Cleveland Ohio's Best Bounce House Rentals
CLE Bounce Houses is your source for high quality bounce rentals in Cleveland, Ohio. We love providing the best quality for your money in the area. With every rental and every event, we focus on providing the best service so you can focus on having FUN. We also love providing safe and clean equipment at the most competitive pricing around. 
Each inflatable is cleaned and sanitized after every usage to ensure your safety and satisfaction. We always follow every safety rule and we will not ignore your safety for business. We have the perfect solutions for bounce house rentals in Cleveland, Ohio. So if your children are ready for something fun to do, then you should consider CLE Bounce Houses for your next party. They'll have so much fun with their friends outside in the backyard. We have a big selection so, check out all of our rentals.
We really have a gigantic selection of bounce house rentals for the Cleveland, Ohio area. We also provide water slide rentals and obstacle course rentals in Cleveland, Ohio. We have standard bounce houses and bounce house combos with slides! We have items that will work for almost any kind of event that you are planning. CLE Bounce Houses rents out all kinds of amazing inflatable options. 
What Customers Are Saying About Our Bounce House Rentals
The Perfect Bounce House Rentals Just For Cleveland, Ohio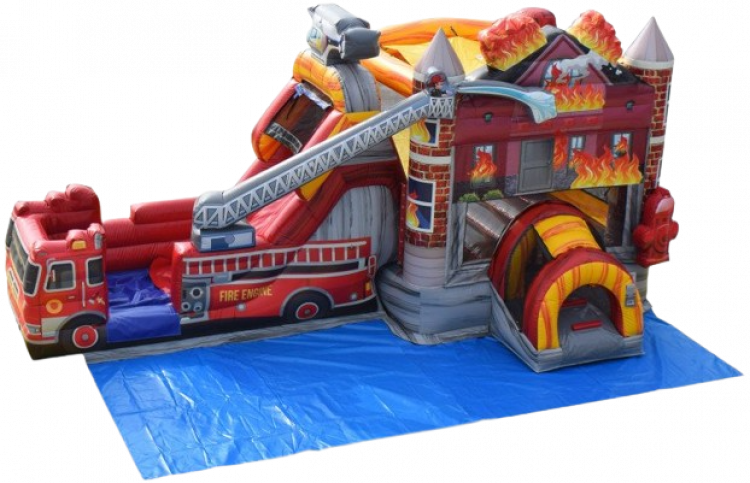 Fire House Combo – the perfect addition to your child's birthday party or community event!
This bounce house features bright and colorful graphics inspired by firefighting, complete with flames, fire trucks, and firefighters in action. With an attached slide, kids can slide down from the top of the inflatable and imagine they're rushing to the scene of a fire.
Bring the excitement of firefighting to your next event with our Fire House Combo! Contact us today to reserve this inflatable attraction and make your party unforgettable.
Cleveland, Ohio Bounce House Rental
16ft Congo Rainforest Water Slide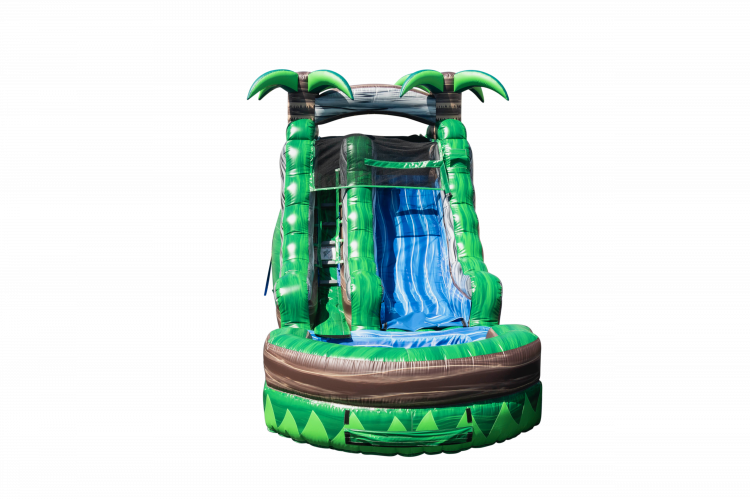 With its jungle-inspired design, our Congo Rainforest Water Slide will transport kids to a lush and exciting rainforest. The slide features towering palm trees adds an extra element of fun and excitement to the experience.
Bring the adventure of the rainforest to your next event with our Congo Rainforest Water Slide! Contact us today to reserve this exciting attraction and make your party unforgettable.
Cleveland, Ohio Bounce House Rental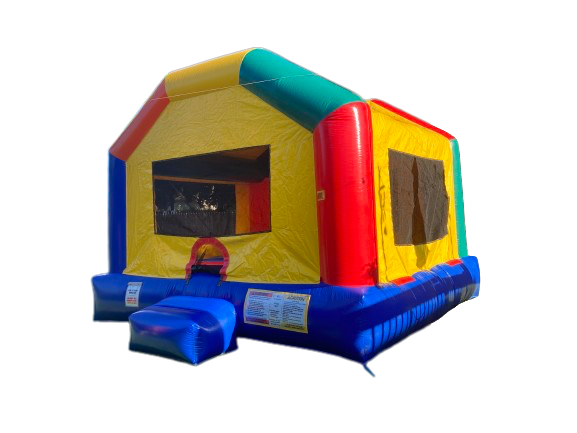 The original bounce house that started it all. There is a reason this design has lasted so long and it is because the kids LOVE it! This Bounce House Rental is perfect for all your backyard party needs! This multicolored bounce house is big enough to hold up to 800lbs. Bounce Houses are the perfect way to get everyone in on the fun and have a blast! Don't wait any longer, book your CLE Bounce House Rental today! 
Cleveland, Ohio Bounce House Rental
How To Book A Bounce House Rental In Cleveland, Ohio​
From Our Website You Can Reserve Your Bounce House Rental 24 Hours A Day, 7 Days A Week 365 Day A Year! To Book An Affordable Cleveland, Ohio Bounce House Rental, You Will Need To Follow The Steps Mentioned Below. It's Easy, I Promise!
Click On "Add To Cart" On The Item You Want To Rent
Choose The Date Of Your Event
Choose The Start Time For Your Event
Choose The End Time Accordingly
You Will Then Be Redirected To The Contact Form Where You Need To Fill In Your Necessary Details
After That, You Would Need To Fill In The Event Information And Provide A Digital Signature Consisting Of Your Name
The Payments Page Will Open Where You Need To Make The Payment For The Deposit
Congratulations, You Have Successfully Reserved Your Bounce House Rental From CLE Bounce Houses!
Why Choose CLE Bounce Houses For Your Next Bounce House Rental In Cleveland, Ohio?
CLE Bounce Houses is your #1 source for Cleveland, Ohio Bounce House Rentals. Who doesn't love a bounce house? Whether you're hosting a backyard birthday party, a church picnic or a company party, our great selection of inflatable bounce houses for rent are sure to provide hours of fun for all of your guests. You can rest easy knowing that CLE Bounce Houses is fully licensed and insured. 
All of our Cleveland, Ohio Bounce House Rentals are manufactured by the top companies in the world. All of our inflatables are designed to meet or exceed industry safety standards as well. You'll also be happy to know that our staff cleans and sanitizes every item prior to your party or event in Cleveland, Ohio.
Our large inventory of the best bounce house rentals Cleveland, Ohio has to offer enables you to have the perfect party or event. From backyard birthday parties to corporate events, CLE Bounce Houses has everything you need. Planning a party or event is quite stressful and what is more stressful is choosing the right bounce house rental. We ensure the highest customer satisfaction from the very beginning to the end of your event.
Rather you are hosting a backyard party, school carnival, neighborhood block party or corporate event here are a few reasons you should consider CLE Bounce Houses. Firstly, you don't have to stress about the delivery as we value your time and promise to show up early, before the event starts. We will also set everything up and give you proper guidance on how to enjoy the inflatables.
Our Cleveland, Ohio Bounce House Rentals, Water Slide Rentals, and other party inflatables meet and even exceed the standards for Bounce House Rentals in Cleveland, Ohio. For the highest safety, we check for damages, and sanitize before the delivery. We clean and disinfect our Bounce Houses after each rental so that you can enjoy your party in a relaxed mind knowing your little ones are safe.
Bounce House Rentals in Cleveland, Ohio are a great way to keep your little ones entertained at any party or event. At CLE Bounce Houses, we have a wide variety of Bounce Houses and Inflatables to choose from, including Water Slides, Dunk Tanks, Obstacle Courses and more! You can rest assured your Bounce House will be there when you need it!
Explore our Cleveland, Ohio Bounce House Rentals
At CLE Bounce Houses, we want to ensure that you have the best party or event possible. We offer a wide variety of Cleveland, Ohio Bounce House Rentals party inflatables, and other party rentals to make your event one-of-a-kind. No matter how many guests you have coming, we've got you covered!
We have a variety of bounce house rentals in Cleveland, Ohio to cater to any size group, from a small birthday party to public events and private parties. With our large selection of inflatables, including obstacle courses, water slides, and inflatable games, it's no wonder CLE Bounce Houses is the go-to place for fun, excitement and Bounce House Rentals in Cleveland, Ohio!
At our company, we pride ourselves in giving you endless Fun at great prices! To see what other inflatables we have for your event, Explore Cleveland, Ohio Bounce House Rentals and other party rentals! With us, there are plenty of options to choose from so that your function is just the way you want it. We carry all of the old-time favorite party rentals like bounce house rentals along with newer additions such as water slides and obstacle courses. And if those aren't enough options for you, keep browsing through our large selection here on the website until you find what strikes your fancy!
Current Bounce House Rental Promos in Cleveland, Ohio!
Bounce House Rentals in Cleveland, Ohio
When planning a memorable event, there are numerous elements to consider, but one aspect that can elevate the excitement and fun factor for both kids and adults is renting a bounce house. CLE Bounce Houses is a top-tier provider of bounce house rentals in Cleveland, Ohio. We will explore why you should choose us for your next event. From safety to variety, convenience to quality, CLE Bounce Houses checks all the boxes and is an excellent choice to make your event an unforgettable experience.
Safety First
Safety is paramount when it comes to bounce house rentals in Cleveland, Ohio. CLE Bounce Houses takes this responsibility seriously. They ensure that our bounce houses are manufactured with high-quality materials, regularly inspected for any wear and tear, and cleaned thoroughly before each rental. The safety of the children and adults using these bounce houses is of utmost importance, and CLE Bounce Houses ensures that all their units meet industry safety standards.
Our commitment to safety extends to the installation process as well. Our experienced team sets up and secures the bounce house to ensure it remains stable during the event. This professional touch guarantees a safe and enjoyable experience for everyone at your event.
A Wide Variety of Options
One size doesn't fit all when it comes to a bounce house rental in Cleveland, Ohio. CLE Bounce Houses offers an extensive selection of bounce house designs and themes to match the theme or mood of your event. Whether you're hosting a child's birthday party, a school event, a corporate gathering, or a family reunion, you can find the perfect bounce house to suit your needs. From princess castles to superhero-themed bounce houses and even water slides, CLE Bounce Houses has an option for every occasion.
The availability of various designs and sizes means you can cater to different age groups and preferences, ensuring that no one is left out of the fun. You can customize your event to create a magical experience that your guests will cherish.
Stress-Free Rental Process
A bounce house rental in Cleveland, Ohio from CLE Bounce Houses is a hassle-free process. We understand that event planning can be overwhelming, so we have streamlined the rental process. Our user-friendly website allows you to browse our selection, choose the right bounce house for your event, and book it with ease. If you have any questions or need assistance, our friendly customer service team is ready to help you throughout the process.
CLE Bounce Houses takes care of the delivery and installation, so you can focus on other aspects of your event. After your event is over, we will promptly dismantle and remove the bounce house, leaving you with one less thing to worry about. This level of convenience allows you to enjoy your event to the fullest without the stress of setup or takedown.
Unmatched Quality
The quality of a bounce house significantly impacts the experience it provides. CLE Bounce Houses prides itself on offering top-notch, well-maintained bounce houses. Our inflatables are crafted from durable materials that can withstand the rigors of enthusiastic bouncing and play. This high-quality construction ensures that the bounce houses are not only safe but also built to last.
Our commitment to quality extends to cleanliness as well. CLE Bounce Houses rigorously cleans and sanitizes our inflatables after each rental to maintain a hygienic environment. You can rest assured that your guests will enjoy a clean and safe environment while having a blast in our bounce houses.
Enhancing Physical Activity
In today's digital age, encouraging physical activity among children and even adults can be a challenge. A bounce house rental in Cleveland, Ohio offers an excellent way to promote physical exercise in a fun and engaging way. The active play provided by bounce houses promotes balance, coordination, and cardiovascular health while keeping kids entertained.
By renting a bounce house from CLE Bounce Houses, you're not only providing a source of entertainment but also helping promote a healthier and active lifestyle for the kids at your event. This adds value beyond just entertainment and contributes positively to the physical well-being of those attending.
Creating Lasting Memories
One of the primary goals of any event is to create lasting memories for your guests. Bounce house rentals in Cleveland, Ohio are a surefire way to achieve this. The excitement and joy that kids experience while bouncing up and down in a colorful, inflatable castle or slide are memories they will cherish for years to come.
CLE Bounce Houses understands the importance of creating memorable moments, and their wide variety of designs and themes ensures that your event stands out. Whether it's a child's smile, the laughter of friends, or even adults taking a trip down a water slide, bounce house rentals in Cleveland, Ohio make your event unforgettable.
Suitable for All Ages
A bounce house rental in Cleveland, Ohio isn't just for children. CLE Bounce Houses offers bounce house rentals in Cleveland, Ohio for a range of bounce houses and inflatable games that are suitable for all age groups. From toddlers to teenagers and even adults, everyone can enjoy the fun and excitement of a bounce house. These inflatables are not limited to birthday parties; they are perfect for school events, church gatherings, corporate picnics, and family reunions.
Choosing CLE Bounce Houses for your next event means you can cater to a wide range of age groups, ensuring that everyone has a fantastic time. It's a great way to bring people of all generations together for a day of fun.
Weather-Resistant Options
The unpredictability of the weather can be a concern when planning an outdoor event with a bounce house rental in Cleveland, Ohio. CLE Bounce Houses offers bounce houses that are designed to be weather-resistant. This means you can still have a blast even if there's a bit of rain or if the sun is scorching hot. Weather-resistant bounce houses ensure that your event goes on, come rain or shine, making it a reliable choice for your next gathering.
Conclusion
In conclusion, a bounce house rental in Cleveland, Ohio from CLE Bounce Houses for your next event is a decision that offers numerous benefits. From ensuring the safety of participants to offering a wide variety of options, CLE Bounce Houses makes the process convenient and stress-free. Our commitment to quality, unmatched cleanliness standards, and dedication to creating lasting memories set us apart as a top-tier provider in the Cleveland area. The physical activity and inclusive nature of bounce houses make them a versatile entertainment option suitable for all age groups.
By choosing CLE Bounce Houses for your Cleveland, Ohio Bounce House Rental, you're not just renting a bounce house; you're investing in an unforgettable experience that will leave a lasting impression on your guests. So, if you're looking to take your event to the next level and create cherished memories, renting a bounce house from CLE Bounce Houses is the way to go. Your event will be a hit, and your guests will thank you for it.
Fun Facts About Cleveland, Ohio
Cleveland was founded in 1796 near the mouth of the Cuyahoga River by General Moses Cleaveland, after whom the city was named.
Cleveland is the largest city on Lake Erie
Cleveland ranks as the second-most populous city in Ohio
According to the 2020 Census, Cleveland has a population of 372,624
Cleveland is home of the Cleveland Clinic which was named the Second Best Hospital In The World 
Cleveland was in fact the first city to be lit by electricity
The first electric traffic signal was placed at the intersection of Euclid Avenue and East 105th Street
Cleveland is the birthplace of Superman, co-creators Jerry Siegel and Joe Shuster are from the city, and the story goes that Superman was created at Siegel's house while the poor were in high school. 
The very first rock concert, the "Moondog Coronation Ball," was held in Cleveland in 1952, and while Cleveland didn't invent rock music – we did invent the term to describe it! Back in the 1950s, the term "rock and roll" was coined by local disc jockey Alan Freed on his Moondog Rock and Roll Radio Hour.
CLE Bounce Houses is the biggest company and has the biggest selection of Bounce House Rentals in Cleveland, Ohio
The History of Cleveland, Ohio: A Tale of Industry, Innovation, and Resilience
Cleveland, Ohio, stands as a testament to the enduring spirit of American industry and innovation. Its history is a rich tapestry woven from the threads of immigration, entrepreneurship, and determination. This Great Lakes city has weathered economic storms, cultural shifts, and transformations, emerging as a dynamic and diverse metropolis contributing significantly to the national and global narrative. From its Native American roots to its emergence as a thriving center of commerce and culture, this article delves into the 200-year history of Cleveland, Ohio.
1. The Native American Legacy:
Cleveland's history began long before the arrival of European settlers. The area was home to indigenous peoples for centuries, notably the Erie, Huron, and Iroquois tribes. The fertile land and access to Lake Erie made it an attractive location for these early inhabitants, who relied on the lake for sustenance and trade.
2. The Founding of Cleveland:
General Moses Cleaveland, the city's namesake, led a surveying party to the area in 1796. Cleaveland was a surveyor and land agent for the Connecticut Land Company, which had purchased a significant portion of modern-day northeastern Ohio. The city was initially spelled "Cleaveland," but the first 'a' was later dropped. Cleaveland's survey laid the foundation for a settlement that would soon grow into a bustling city.
3. Early Growth and Industry:
Incorporated as a village in 1814, Cleveland experienced early growth due to its strategic location on the southern shore of Lake Erie. The construction of the Ohio and Erie Canal in the 1830s further fueled the city's growth, making it a key transportation hub. The canal connected Cleveland to the Ohio River, providing a vital link for moving goods and people.
4. Industrial Revolution and Maritime Trade:
By the mid-19th century, Cleveland had become a bustling industrial center. The construction of railroads, iron foundries, and shipyards contributed to the city's industrial growth. Lake Erie's shoreline was dotted with shipyards that produced many vessels that sailed the Great Lakes. The maritime trade, which included shipping iron ore, coal, and other resources, played a crucial role in Cleveland's development.
5. The Civil War and Post-War Prosperity:
The Civil War had a significant impact on Cleveland. The city's industrial capabilities made it a substantial equipment, arms, and food supplier to the Union Army. The war effort stimulated the local economy and solidified Cleveland's position as an industrial powerhouse. After the war, Cleveland continued to prosper, and it was during this period that it earned the moniker "The Best Location in the Nation."
6. The Rise of Industry Titans:
Cleveland's industrial growth in the late 19th and early 20th centuries was closely tied to the rise of industry giants. John D. Rockefeller, the founder of Standard Oil, and Henry Sherwin and William Williams, the founders of Sherwin-Williams, established their empires in Cleveland. These companies significantly contributed to the city's wealth and prosperity.
7. A Diverse Population:
Cleveland's rapid industrialization attracted a diverse range of immigrants. Germans, Irish, Poles, Hungarians, and Italians were among the many ethnic groups who flocked to the city in search of economic opportunities. This diversity enriched Cleveland's cultural landscape and laid the foundation for the vibrant city it is today.
8. Cultural Flourish:
The late 19th and early 20th centuries were a time of cultural blossoming in Cleveland. The city was home to a thriving theater scene, including the Playhouse Square, the second-largest theater district in the United States. The Cleveland Orchestra, founded in 1918, gained international acclaim and became one of the "Big Five" American orchestras.
9. The Burning River:
Cleveland faced a notable environmental setback in 1969 when the Cuyahoga River caught fire. Though not the first time the river had ignited, this event attracted national attention and spurred ecological consciousness. It catalyzed the creation of the Environmental Protection Agency (EPA) and the Clean Water Act, leading to significant improvements in water quality and environmental regulations.
10. Economic Challenges:
The latter half of the 20th century brought economic challenges to Cleveland. Deindustrialization and the decline of heavy manufacturing industries hit the city hard. The steel mills and factories that had been the lifeblood of Cleveland began to close, leading to job loss and population decline.
11. The Sports Renaissance:
Cleveland has always had a strong sports culture, with iconic teams like the Cleveland Indians (now Cleveland Guardians), Cleveland Browns, and Cleveland Cavaliers. The 2010s marked a sports renaissance in the city, with the Cavaliers winning their first NBA championship in 2016 and the Cleveland Guardians making playoff appearances. The triumph of these teams helped rekindle civic pride.
12. The Rock and Roll Hall of Fame:
Cleveland further solidified its place in the annals of music history when it became the home of the Rock and Roll Hall of Fame, which opened in 1995. This iconic institution celebrates the influence and impact of rock and roll music, honoring the artists, producers, and pioneers who shaped the genre.
13. Rejuvenation and Revitalization:
In the late 20th and early 21st centuries, Cleveland began a revitalization effort to diversify its economy, redevelop downtown areas, and create growth opportunities. The city's healthcare sector, led by the renowned Cleveland Clinic, became a cornerstone of its economy.
14. The Medical Mart and Convention Center:
One of the critical projects in Cleveland's rejuvenation plan was the Global Center for Health Innovation, also known as the Medical Mart. This state-of-the-art facility opened in 2013 and houses showrooms for medical technology and healthcare innovations. It is a hub for healthcare professionals and is a focal point for the medical industry.
15. Educational Institutions:
Cleveland is home to prestigious educational institutions, including Case Western Reserve University, Cleveland State University, and the Cleveland Institute of Art. These universities have played a pivotal role in fostering innovation and research in various fields.
16. The Cleveland Renaissance:
The early 21st century has seen the city reviving and transforming itself. The downtown area has experienced a renaissance, with a boom in residential development and a focus on urban living. Public spaces like the Cleveland Flats have been revitalized, and the East Fourth Street Entertainment District has become a bustling hub of restaurants, bars, and entertainment venues.
17. The Cleveland Clinic:
The Cleveland Clinic is a world-renowned medical institution at the forefront of healthcare innovation. Its pioneering work in cardiology, oncology, and neurology has saved lives and attracted medical professionals and patients from around the world to Cleveland.
18. Sports and Civic Pride:
Cleveland's sports teams have also experienced a resurgence. The Cleveland Cavaliers won an NBA championship in 2016, ending a 52-year championship drought for the city. This victory brought immeasurable pride to the city and its loyal sports fans.
19. The West Side Market:
One of Cleveland's enduring icons is the West Side Market, which has served the city for over a century. This historic market is a culinary destination featuring diverse vendors offering fresh produce, meats, cheeses, and a wide variety of ethnic foods.
20. Cleveland's Art Scene:
Cleveland's art scene has flourished, with institutions like the Cleveland Museum of Art housing impressive collections that span millennia. The museum's recent expansion and renovation have further solidified its status as a cultural hub.
21. The Cleveland Metroparks:
The Cleveland Metroparks, a vast system of interconnected parks and nature reserves, has provided residents and visitors with opportunities for outdoor recreation, including hiking, biking, and picnicking. The Metroparks system has become essential to Cleveland's quality of life.
22. Challenges and Progress:
Despite the city's revitalization efforts, challenges persist. Poverty, racial disparities, and urban decay still need to be addressed. However, Cleveland's history is marked by resilience, and the city continues to evolve and adapt to meet these challenges head-on.
23. The Future of Cleveland:
A commitment to innovation and progress shapes Cleveland's future. The city invests in infrastructure, technology, and education to position itself as a hub for healthcare, technology, and the arts. The ongoing construction of the Opportunity Corridor, a transportation project aimed at connecting neighborhoods to employment centers, reflects this vision for the city's future.
24. Conclusion:
Cleveland, Ohio, has a storied history encompassing a rich tapestry of industry, culture, and innovation. From its origins as a small village on the shores of Lake Erie to its emergence as a dynamic urban center, Cleveland's journey has been one of resilience and reinvention. The city's diverse population, vibrant cultural scene, and commitment to progress make it a place with a bright and promising future. Cleveland's story is one of endurance and renewal, a testament to the American spirit and the enduring legacy of a city that has withstood the test of time.